Thurning Hall Modern Love Weddings Show Gallery - June 21
THURNING HALL, NORTH NORFOLK, LICENSED FOR WEDDING CEREMONIES, CIVIL PARTNERSHIPS & BABY NAMING CEREMONIES.
Thurning Hall is a beautiful 18th century Georgian country mansion house with classical elegance and bohemian spirit.
Approached by a woodland drive, the house is set within 14 acres of a hazy mix of informal secret walled rose gardens, woodland and grass parkland leading to a small lake.
Lost in North Norfolk, Thurning Hall has been licensed for ceremonies since 1996.
Nestled in the heart of the countryside, only 10 miles from the coast and 12 from Norwich, it is perfectly placed to enjoy all that Norfolk has to offer.
The grand old house has been in private ownership of the current family since 1947 and is now the family home of Lara & George Lacey. Together with their 3 children they provide a warm and welcoming experience to all who choose Thurning for their special day.
As well as being a family home Thurning has wowed and entertained guests for over 20 years.
The 'dry hire' policy of the venue is perfect for couples and organisers who wish to control every aspect of their wedding or event.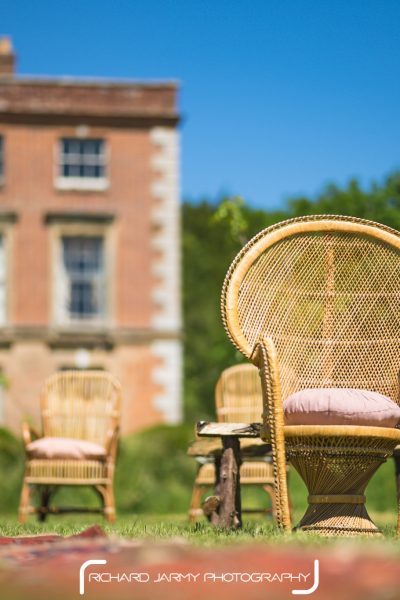 What an Amazing day it was for a wedding show at this amazing venue!
So much love for Thurning Hall as I went to college with Lara and then we worked together at Mundesley Holiday Centre as the Entertainment Team, so we do go back quite a few years!
With bubbly delights on arrival by The Bubble Crew, the sun shone on the grounds, so there were some wickedly styled outside lounges, ceremony areas, tablescapes – everything to make your eyes pop!
Live music with Zaira Palumbo throughout the day
Live gifted couple illustrations with Owen Mathers
Ceremony designs, floral clouds, marquee and tipis, tablescapes – we've got it all covered.
The walled gardens were full of summer blooms and life, alongside design focused installations from an array of banging Norfolk creatives! 
Here are just a few of the suppliers that were there on the day.
All of this will be set to a favourite theme this summer – BRIDGERTON (but with a modern twist).
All event signage will be created by And So It Begins.