Fun Casinos Norwich, Norfolk from KQ Fun Casinos 01603 905495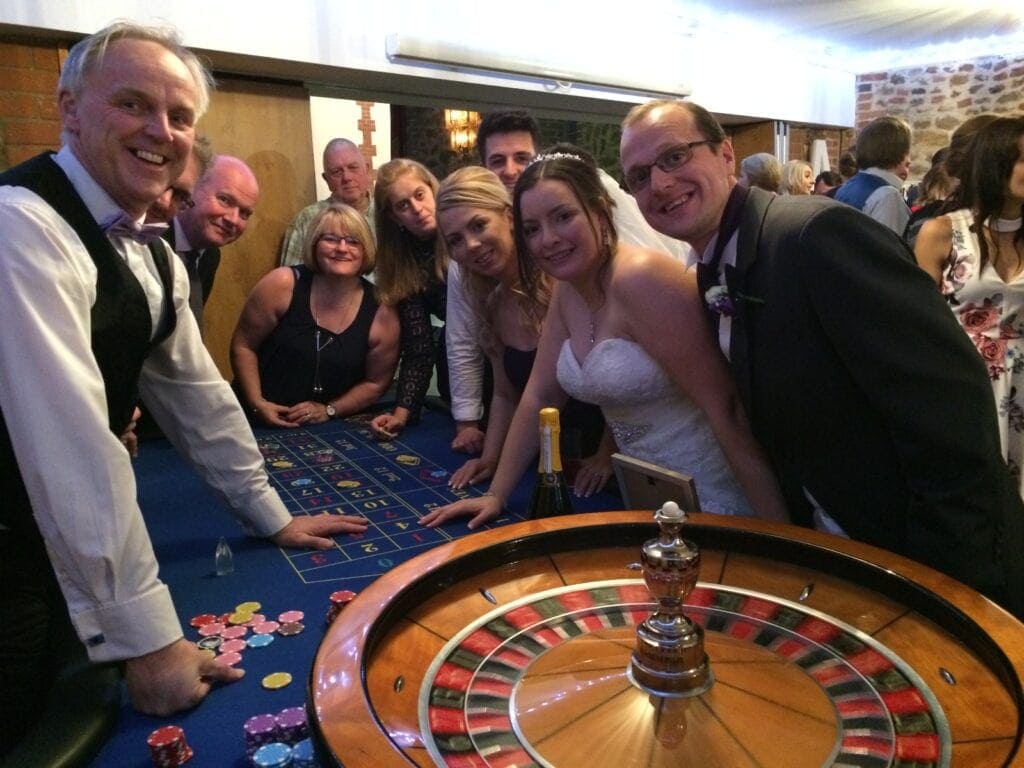 Based in Norwich, Norfolk, we cover an approximate radius of about 50 miles catering for all types of event: Weddings, Fund Raisers, Birthdays and Proms to name a few.
Wedding Fun Casino Entertainment – Norwich, Norfolk
Benefits of a Kings & Queens Fun Casino at your Wedding
It's a Great Ice Breaker for guests as they socialise at the Casino Tables. Many wedding guests haven't met and our Fun Casino offers a great way for social interaction.
We can open the Tables early evening, to provide entertainment after the main wedding ceremony, meal and speeches or as a main evening activity when the other guests arrive.
Our Casino Tables generally open for up to 3 hours and create a great accessory to your Wedding day.
Our Fun Casino Croupiers guarantee to engage everyone in the games so no one feels left out and as only Fun Money is used, there is no risk for your wedding guests, just great Fun!!
There are no Age limits at our Roulette or Blackjack Tables, so Granny, Aunty or the kids at your Wedding can enjoy the Casino games.
If your guests don't wish to drink at the bar or sit in the corner, we will entertain them at the Fun Casino Tables.
When the parents try to leave to go home and the kids don't want to leave the Roulette Table, we like to give the kids some Fun Money to take with them.
Also good for maths skills as adding up cards totals on the Blackjack Table or calculating winning bets on Roulette can be a good exercise in numeracy.
There will be a prize for the Casino Winner and so the kids don't feel left out, some Kids prizes too!!
We can have the happy Wedding couples photo on our Fun Money or a photo of your choice as a nice little novelty idea.
The final spins of the Roulette Wheel or hands of Blackjack always creates a thrilling climax to the Casino games as the overall Winner is announced.
It's your special Wedding day but we would love for you to have a go on the Roulette Wheel and chance your luck too!
You may win the Champagne!
With many many events under our belt and professional croupiers that have vast casino experience, we will deliver an experience like no other whilst letting you enjoy the evening along with your guests.
Please take a look around and let us quote you for your forthcoming event.